Outreach Built on Experience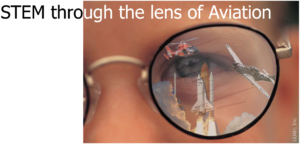 S cience
T echnology
E ngineering
M ath*
The Problem: The United States needs to produce more STEM teachers and graduates in STEM majors, as well as generate greater interest in STEM among women, minorities, and underserved students.
An Underused Resource: Aviation is an engaging topic, and small airports are intrinsically STEM-rich environments.
A Solution: While many initiatives are attempting to arrest the nation's freefalling STEM education system, aviation-themed outreach can provide a ready solution not only to the national STEM problem, but also to the projected workforce needs of the aviation and aerospace sectors.
At least 15 years before aviation alphabet groups entered the STEM outreach/education space, Rich's friend and colleague Linda Castner was developing and testing innovative, aviation-themed STEM programs for youth and adults alike. Rich's initial involvement came as the lead flight facilitator for Women Take Flight workshops that targeted high school teachers and college professors.
Rich has since collaborated with Linda and other stakeholders on numerous STEM grants, papers, and programs. Drawing on his career as an award-winning flight instructor and early work as a mechanical engineer, Rich has created a range of aviation-themed content and delivered aviation-themed programs in New Jersey, Idaho, Montana, and Oregon.
In 2016, Rich received the Idaho West Central Mountain STEM Gem of the Year award. As a 4-H STEM Program Leader, he received both the Valley County and Idaho Southern District Distinguished Leader awards in 2019. Also in 2019, he was invited to speak about "STEM through the Lens of Aviation" at the Western Regional Space Grant Meeting in Big Sky, MT. In 2020, Rich was part of a team that won the Excellence in Workforce Development award from the National Association of Extension 4-H Agents (NAE4-HA) for programs to inspire future aviation professionals. The team included 4-H coordinators and airport stakeholders in Idaho and Oregon. From October 2019 to October 2021, he was certified by the Partnerships in Education and Resilience (PEAR) Institute to assess the quality of STEM programs in Idaho using the PEAR Dimensions of Success rubric.
Papers, Articles, & Videos
2019: Castner, Stowell, and Olabisi, Results from an Aviation-Themed Pilot Project Designed to Improve Executive Function Skills and Increase Transportation Career Awareness, an imaginary play activity called Learn to Fly with Katie Doo delivered to Pre-K children.
2018: Renee Michalson, Taking Flight with Rich Stowell, article by PCS Edventures about one of Rich's multi-day drone programs.
2017: Castner and Stowell, Effective Outreach: Preserving General Aviation by Putting the "Public" in Public-Use Airports.
2012: Castner, Scheer, Stafford, and Stowell, Creating Business-Education Partnerships: A Case Study Using an Airport as a Living Laboratory for STEM, paper presented at the DOT National Workforce Summit, Washington, DC.
2017: Grant-funded collaborative effort to deliver a day-long Navigation lab during an Aerospace Career Exploration (ACE) Academy. Five minutes, produced by Boise State University.

2013: Rutgers Women Take Flight Workshop, a research effort to test The Flying Effect™ program theory. Supported by a grant from the National Science Foundation. 2-1/2 minutes, produced by Rutgers University.

* STEM through the Lens of Aviation and The Flying Effect theory are trademarks of Linda Castner.