The typical training season in Idaho runs from mid-June through mid-October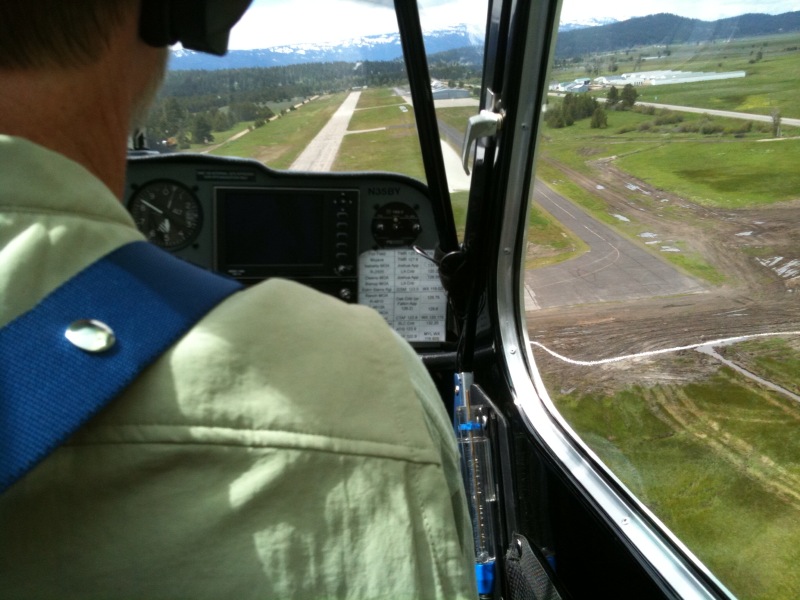 CASCADE, IDAHO
Located 85 miles North of Boise Airport (BOI); 35 miles South of McCall Airport (MYL)
New 42′ x 32′ Hangars for Sale (pdf)
---
How to Get Here
By Commercial Airline — Check for flights into Boise Airport, BOI.

By Car From BOI (about 1:45) — Mapquest driving directions. Once out of Boise, you'll be winding along the Payette River Scenic Byway.

By Car From McCall (about 0:40) — Take Highway 55 South to Cascade. The airport is just South of the town of Cascade on the right hand side.

By Small Airplane — see the Pilot's Guides for either Cascade Airport or McCall Airport.

Local Accommodations
Ashley Inn — The nicest accommodations in town, breakfast included. Ask about weekday specials. Also mention that you are coming to town to train from Cascade Airport, and if they can extend a discount. Government discount available as well.

Birch Glen Lodge — Clean and basic accommodations, remodeled in 2008.

The above accommodations are within 1-1/2 miles of the Cascade Airport. If you don't mind a comfortable, 35-mile commute each day, check out places to stay in McCall.
---
Aviation Businesses/Agencies & Other Info
If you stop by any of these sites, tell them Rich sent you!

Cascade Area
Cascade Airport website
Cascade Chamber of Commerce — the airport page, plus links to local accommodations, attractions, and other info.
Arnold Aviation — Cascade Airport FBO, airport manager, fuel sales, and back country charter.

McCall Area
McCall Mountain Canyon Flying Seminars — Many years of experience teaching a popular back country flying course.
McCall Air / McCall Aviation — Back country flights, charters, FBO, pilot services.
McCall Airport Webcam — Webcam and other airport information.
McCall Chamber of Commerce

State of Idaho
Division of Aeronautics
Rudder Flutter — Quarterly Newsletter of the Idaho Division of Aeronautics.