DVD Library Pack – All Three DVD Titles
$129.00
DVD Library Pack – All Three DVD Titles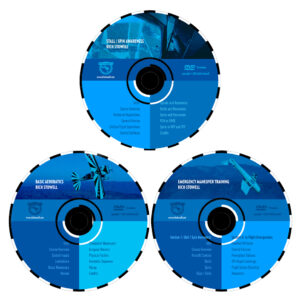 DVD Library Pack — All three DVD titles as a set — Saves $31
Stall/Spin Awareness DVD
83 minutes
A nice companion to the Stall/Spin Awareness book!
This presentation was videotaped live at one of the many safety seminars Rich has presented as part of the FAA's Aviation Safety Program, with actual flight footage inserted to reinforce the points discussed.
"a professional product…. It takes you into the cockpit where you can readily visualize, experience and better understand stalls and spins and other unusual attitudes…. the explanations are also enhanced by excellent electronic graphics…. you likely will want to watch it repeatedly, learning something new from each review." —General Aviation News & Flyer magazine
"a worthwhile addition to any pilot's video library." — Flight Training magazine
"It was like a light bulb had gone on inside my head." — M. Ferzan, Student Pilot
Emergency Maneuver Training DVD
90 minutes
A nice companion to the Emergency Maneuver Training book!
Based on the content of Modules I & II of the EMT® Program
Topics covered

: Aircraft Controls, Stalls, Spins, Slips & Skids, Inverted Attitudes, Control Failures, Powerplant Failures, Off-Airport Landings, Checklist/Resources.
"I was very impressed with the quality of the photography, the air-to-airs, the cockpit shots, and the clarity of Rich Stowell's presentations." — Sport Aerobatics magazine
"Spins, recovery from inverted flight, emergency landings, and other procedures are covered in theory as well as in practice, with vivid air-to-air footage illustrating each point." — AOPA Pilot magazine
"one of the best training videos I've ever seen." — Kitplanes magazine
Basic Aerobatics DVD
54 minutes
Based on the content of Module III of the EMT® Program
Maneuvers covered: Spin, Roll, Loop, Immelmann, 1/2 Cuban Eight, Reverse 1/2 Cuban Eight, Hammerhead Turn, Recoveries from Botched Maneuvers, Aerobatic Sequence.This DVD combines "superb aerial photography, creative use of digital graphics and excellent scripting and editing to come up with a nearly indispensable aid to those considering a departure from straight and level."Rich Stowell introduces the basic building blocks of aerobatics – spins, rolls and loops – with a wealth of in-cockpit and from-the-ground views of each maneuver. Salted in are pilot's eye views from the front cockpit of a Pitts, allowing you to see control inputs, entry speeds, altitude and G meter readings throughout the maneuvers covered….
"an accomplished and effective instructor, Stowell really seems to be in his element here. His delivery and on-camera mien are articulate and friendly…." — US Aviator magazine
Additional information
| | |
| --- | --- |
| Weight | 2 lbs |
| Dimensions | 5.75 × 5 × 0.75 in |
Only logged in customers who have purchased this product may leave a review.