DVD – Emergency Maneuver Training
$69.95
DVD – Emergency Maneuver Training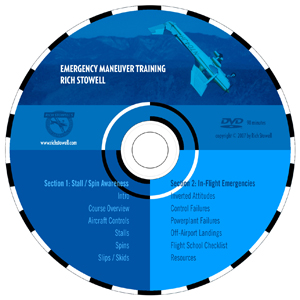 A nice companion to the Emergency Maneuver Training book!
Based on the content of Modules I & II of the EMT® Program
Topics covered
: Aircraft Controls, Stalls, Spins, Slips & Skids, Inverted Attitudes, Control Failures, Powerplant Failures, Off-Airport Landings, Checklist/Resources.
"I was very impressed with the quality of the photography, the air-to-airs, the cockpit shots, and the clarity of Rich Stowell's presentations." — Sport Aerobatics magazine
"Spins, recovery from inverted flight, emergency landings, and other procedures are covered in theory as well as in practice, with vivid air-to-air footage illustrating each point." — AOPA Pilot magazine
"one of the best training videos I've ever seen." — Kitplanes magazine
90 Minutes
Additional information
| | |
| --- | --- |
| Weight | 1 lbs |
| Dimensions | 5.75 × 5 × 0.2 in |
Only logged in customers who have purchased this product may leave a review.