McWilliams Earns Primary Smooth Achievement Award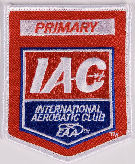 Congratulations to Susie McWilliams, who recently earned an International Aerobatic Club (IAC) Smooth Achievement Award in her Zlin 242L, N110AM. A Santa Paula local and long-time aerobatic student of Master Instructor Rich Stowell, McWilliams earned the award in the Primary category after three days of competition-specific training. Not only did McWilliams qualify on each of the four required Primary maneuvers, but she also qualified separately on three of eight required maneuvers in the Sportsman category. She is now working on the remaining maneuvers for a Sportsman Smooth award.
According to McWilliams, "I think it was a very smart decision for IAC to modify the rules regarding this award to encourage pilots like me during this phase of flight training. I had a very positive experience, and am enjoying my modest bragging rights."
Based on a proposal submitted by Stowell in 2010 and endorsed by other Master Aerobatic Instructors, the IAC changed how pilots can qualify for its Smooth Achievement Awards. For Primary, Sportsman, and Intermediate Smooth awards, pilots can now fly the required maneuvers in front of a ground-based IAC judge, or with a qualifying instructor on board the airplane.